Railway car-building industry of Ukraine (2007)
The railway car-building industry in Ukraine has a very bright future, since rail transportation has always been a determinant of the efficient economic performance of the country. Railway transport maintains most of cargo freightage, and there is also big passenger flow within the country. Situation in railway car building is favorable at the moment:
wagon producers found foreign customers for their output, consequently, this has forced the plants' executives to certify the products in other countries;
new models of cargo and passenger cars are being developed, which consider the latest novelties in car-building;
old wagon models are upgraded;
production of rail cars by Ukrainian plants is focused at customer's needs.
Besides to fulfilling orders of Ukrzaliznytsya (Ukrainian Railway Roads), Ukrainian rail car producers actively cooperate with different large transportation companies.
The industry in Ukraine is export oriented. Export numbers are traditionally higher than imported volumes. Analysts estimate that Ukrainian producers have made foreign supplies worth some USD 1.42 bn. Export shipments from Ukraine to other countries grow regularly and can continue to do so in the future.
Dynamics of export of rail car building companies' output in 2007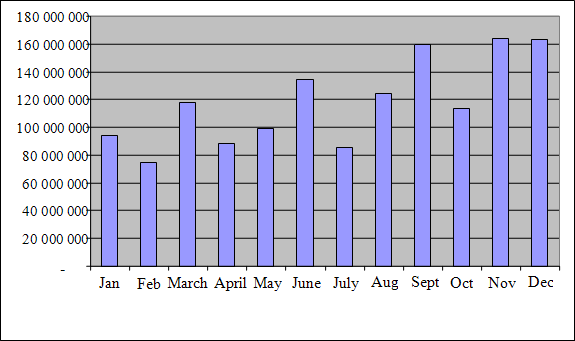 The industry in general is oriented toward the engineering of various models of cargo cars. The portion of passenger wagons manufactured for export is very low (a bit more than 1%). Meanwhile, several companies, for example, Kharkov wagon building plant, declared on their readiness to produce passenger railway cars.
Gross structure of export supplies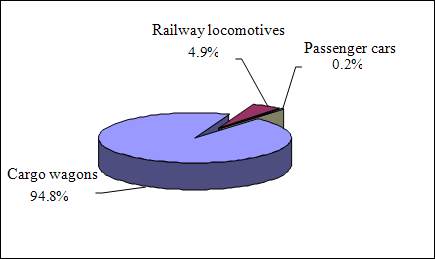 Geographic pattern of wagon building in Ukraine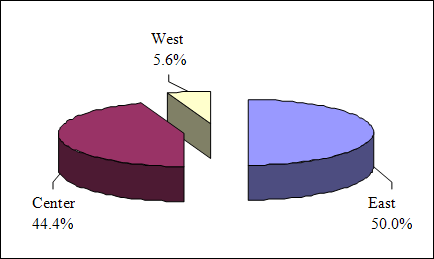 18 companies operate in wagon building industry. They plan to unite into association of car builders of Ukraine. The largest enterprises of the industry are OJSC Kryukovskiy Wagon-Building Plant, OJSC DneproVagonMash, OJSC Stakhanovskiy Wagon Plant, and OJSC AzovObscheMash. Most of the listed above plants engineer cargo cars.
OJSC AzovMash is a large machine building enterprise with state-of-art production facilities, testing labs, and a professional team. The plant produces tank cars, modern closed cars and hopper wagons, gas filling systems, high-power bridge loaders and gantry cranes, equipment for nuclear electrical plants, armed equipment blocks; furnace and mining machinery; as well as steel casting equipment. All of the output has Russian and Ukrainian certificates confirming its high technical level. The enterprise keeps developing new car models.
OJSC AzovMash produced more than 9.82 ths. wagons in 2007. It is planned to expand output up to 11.78 ths. units in 2008.
Around 80% of the plant's output is exported to Russia, Azerbaijan, Germany, Hungary, Turkey, and other countries. The company cooperated with such clients as Azovstal Iron and Steel Works, UKRREFTRANS, Novolipetsk steel, and Magnitogorsk Iron and Steel Works in 2007.
AzovMash started to produce autorack cars in 2007 and certified them in Russia. The company produced a unique rail car with all-steel deck upon the order of Eurosib. The company plans to start mass production of flat heavy capacity rail cars to carry 20-feet and 40-feet multi-tonnage containers in 2008. In addition, it is planned to commence mass production of new flat rail car models: container platforms, do-all platforms, temperature-resistant covered trucks, and chip cars.
OJSC AzovMash includes joint stock companies such as JSC Mariupol Plant of Heavy Machine Building, OJSC AzovObscheMash, OJSC Head Specialized Engineering and Technological Institute, OJSC Mariupol Thermal Plant, and CJSC AzovElectroStal.
OJSC Kryukovskiy Wagon-Building Plant is second largest producer of wagons and the full production cycle enterprise – from creating of commercial and technical production idea to supplies of finished output. Kryukovskiy Wagon-Building Plant has received ISO 9001 and AAR quality certificates. In 2007, the plant manufactured more than 7 ths. of wagons. Engineered capacity of the plant is 0.2 ths. of passenger wagons and 8 ths. cargo wagons each year.
The plant is the only company in Ukraine to produce passenger and cargo wagons (wagon platforms, tanks, bunker type wagons, semi-cars).
Another special feature of OJSC Kryukovskiy Wagon-Building Plant is a capacity for quickly bringing new items to market, which helps expand current range of output each year. In the long run, the company plans to launch production of subway cars. Ukrzaliznytsya plans to become one of the largest customers of the company in 2008 and purchase 150-200 passenger cars.
OJSC DneproVagonMash is one of the leading Ukrainian and CIS enterprises in designing and manufacturing of cargo wagons for main railways and various industrial segments. Around 150 models of cargo cars have been developed, and the company boasts the widest range of wagon output in Ukraine and other CIS countries. One of the DneproVagonMash advantages is available facility for simultaneous producing of up to 6 types of miscellaneous rolling stock. The enterprise may perform orders of different volumes: one-off as well as high-volume and large-lot requests.
In 2007 the volume of rail car production came to some UAH 762.3 mn and approximated 3.0 ths. cars. Similar to previous years, in 2007 most of the output was exported – more than 80%. Russia is the largest exporter.
Stakhanovskiy Wagon Plant is another large railway car producer. The plant produces platforms (including those for transporting of large tonnage containers), mineral carrying wagons, open cars, polymer carriers, flour carriers, timber freightage platforms, dump cars, tanks, wagons for bulk handling of cement, as well as coke transportation cars. Its output in 2007 outran 5.5 ths. cars. The company's output is in service in Ukraine, Russia, Estonia, and Lithuania. Up to 95% of the plant output is exported.
State company Ukrzaliznytsya also produces cars at its own car repairing facilities. It planned to produce up to 300 open wagons per month in 2007 and approximately 7 ths. open wagons in 2008.
LuganskTeplovoz (Diesel Locomotive) Holding Company is the largest enterprise that specializes in the production of main cargo diesel locomotives, electric trains for direct and alternating current, and diesel trains with locomotive traction. In 2007, the enterprise's output was estimated at USD 110 mn. Output in 2007 included 50 self-propelled cars, 32 diesel locomotives, and 1 electric locomotive. The company cooperates with state company Ukrzaliznytsya, and exports the output to Russia and Kazakhstan.
Hence, transportation machine building in Ukraine is a very bright industry for investors. Enterprises in the sector are operating for Ukrainian and foreign clients. The plants are producing new wagons that meet the present-day requirements of customers and thus improving their competitiveness on foreign markets. Also, plants keep renovating their own output. The most developed is cargo wagon production, though some enterprises in the industry have been equipped for passenger wagon production.