Parameters:

Foreign economic activities
Search of Ukrainian-made products by foreign companies (autumn - winter 2010/2011)
Survey of enquiries
In September, 2010 – January, 2011 Administration of Portal received over 140 enquiries from foreign companies looking for the Ukrainian-made products.
As a result, we recommended over 280 Ukrainian exporting companies.
Most of enquires were forwarded to the following companies:
| | | | |
| --- | --- | --- | --- |
| Agriculture | Mining & Metallurgy | Paper & Woodworking | Chemistry |
| | | | |
By sectors review:
Number of enquires by sectors

Recommended Ukrainian exporters

Subject of enquiry

Agriculture

44 enquires

92 companies recommended

Top recommended companies (over 3 enquires):

Corn, soybeans, barley, wheat (incl. forage), millet, rice, yellow corn

Sunflower meals, corn meal, corn bran, sugar beet pellet and other similar products for animal usage, in other words animal feeds or fodders

Refined and Crude Edible Oils (Refined and Crude Sunflower, Corn, Soybean and Rapeseed Oils)

Beet sugar

Bee-farming products, honey

Apples

Walnut

Frozen vegetables

Ethyl Alcohol – 96%

Table grape wines

Dry milk products for children

Tomato paste

Bakery

Pasta

Canned fish (goby fish in tomato sauce)

Confectionery

Juices

Pellets

Live cows (cattles),sheep

Chicken

Frozen meat and chick

Paper & Woodworking

20 enquires

43 companies recommended

Top recommended companies (over 3 enquires):

Pine, spruce, ash

Medium density fiberboard, wood fiber board, wood chipboard, oriented strand board

Wood and wood board

White oak logs

Saw timber, board, timber and round timber, procurements for pallets

Wood pellets, Chips wood, Firewood, Wooden boards

Impregnated pine timbers or poles

Cardboard, vinyl binding material, paper, flute cardboard

Toilet paper, paper towel

Oak furniture

Matches

Mining & Metallurgy

18 enquires

42 companies recommended

Top recommended companies (over 3 enquires):

Iron ore fines

Coal

Coal Tar, Coal Tar Pitch

Ferro silicon

Graphite and products, incl: graphite lubrication, graphite composites, other types of graphite

Metals (magnesium)

Iron scrap, and USED RAIL

Rail components / parts, rail wheels (Solid Forge Wheel), rail

Steel profile, coils, reinforcement, angle, beam, plate, band, channel bar

Wire flour-grinding sieve screens, rod

Steel pipes, welded pipes

Hardware

Chemistry

18 enquires

30 companies recommended

Top recommended companies (over 3 enquires):

Titanium dioxide

Phthalic anhydride

Sulphur

Silicon carbide

Boron nitride

Silicate zirconium

White fused alumina

Ammonium nitrate

Calcium ammonium nitrate

Mono Ammonium Phosphate (MAP)

Oil and petrochemical

Polymers – PA-6, PA-66

Technical salt

Paint solvent

PET caps

Tires

Machine-building

16 enquires

39 companies recommended

Furnaces (vacuum-salt bath-Muffle, etc) / deep chrome electroplating line / Phosphate line

Conveyor oven

Gas-condensate base oil refinery

Carriage, goods van, mail van, luggage van, open wagon, tank car

Machine tools for metal (Presses-jig boring-jig grinding)

Presses, packaging machines for ñoal briquettes

Concrete mixers and carriages

Water pumps

AC traction motors

Juice press

Hand tools for bead jewellery making

Oil / gas / petrochemical / industrial valves electrodes, copper cathode

Consumer Goods

7 enquires

15 companies recommended

Knit and woven ladies cloths

Glass, paper napkins, metal decoration, wooden frames, interior equipment for kitchen and bathroom Cast aluminum dishware

Pharmaceutics

2 enquires

3 companies recommended

Pharmaceutical products (Finished dosage forms)

Construction

2 enquires

2 companies recommended

Aluminum windows

Rental of construction equipment

Minerals

2 enquires

5 companies recommended

Mineral (Zircon Sand)

Ilmenite, Kyanite, Sillimanite, Titanium Dioxide, Brown Fused Alumina, White Fused Alumina, Silicon Carbide
Please, find all the reviews of enquiries on export of Ukrainian-made products here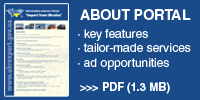 DISCOVERY DRILLING EQUIPMENT (UKRAINE), LTD.
41, Yavornitskogo Str., Stryi, Lviv Region
NEPTUN COMPANY, LTD
3-èé ïåð. Øåâ÷åíêà, 3, ñ. Á. Äàëüíèê, Áåëÿåâñêèé ðàéîí, Îäåññêàÿ îáëàñòü
BEAUTY AND HEALTH, LTD
12B, Somovskaya Str., Kharkov
KRISTALL, VINNITSA JEWELRY, SC
21 600-letiya Str., Vinnitsa